The bticino identity is tightly connected with an advanced design culture.
Founded in Italy shortly after the 2nd world war bticino joined the French Legrand group in 1989. It operates both in Italian and worldwide markets. The strategy of the company is to bring quality, technology and italian design values. BTicino was the first manufacturer in Italy to conceive of electrical components – from the "electrical panel" to the light switch – as industrial product design, not only in the perspective of standardized production and low cost, but in terms of environmental significance, as components in a greater living system. BTicino was the very first company to introduce the concepts of aesthetics and comfort in an industry whose priority was the functional performance of products.

In 2001, to complement the range of electrical equipment, the revolutionary home-automation system My Home was introduced: advanced functions such as.security (alarms, video entrance systems, video controls, access controls), comfort (advanced management of automatic devices and lighting, sound distribution), and energy savings (temperature control by zones, energy management for appliances) may be personalized and integrated, becoming more accessible and intuitive. The many user-friendly interfaces (traditional push-buttons, touch screen, controls managed by software on the personal computer), become an advanced tool to create a dialogue between the user and the technological systems. In addition, the flexibility of My Home makes it possible to select different levels of functionality, that can be modified any time as desired, to satisfy needs that may arise over time.

Integrated solutions for comfort, energy efficiency, safety, video entry, telephone system and control.
The design of spaces and places for living is becoming increasingly complex. BTicino is a reliable and competent partner for the management of control systems in retail spaces, in hospitality structures, in hospitals and collective spaces in general, adapting the devices for the distribution and control of power and data networks to the many different requirements of the project. The application of its building automation solutions makes it possible to provide a flexible response to the client's needs, achieving an unprecedented synthesis of integrated tools to control, manage and supervise lighting, sound, comfort and the security of things and persons. BTicino, using radio technologies, can boast a countless number of projects developed for monuments, museums and venues for art and worship.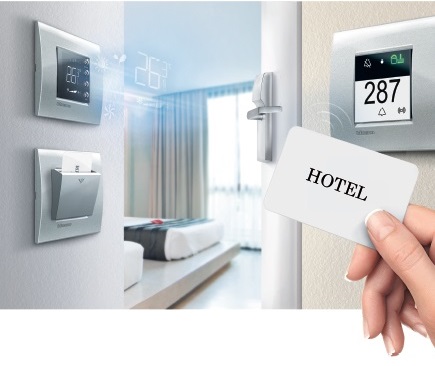 Hotel Room Automation
A step ahead towards home automation, the Axolute series (2005) offered – the first company ever – the integration of video door entry systems into domestic electrical systems, while Axolute Nighter and Axolute Whice (2008), the latest frontier in living styles, move one step further towards the aesthetic simplification of electrical equipment for residential use, focusing on an exclusive monochromatic style combined with the most advanced technology. In 2013 the latest living.light series was introduced.
60 years of bticino history: a journey through design.
---