We offer MyHome automation system from bticino. Burglar Alarm is a module of this system which may be installed as a stand alone or as part of an integrated installation.(System Integration & Control)
Burglar alarm. Protects all rooms and all accesses. A warning message by telephone, mobile, text-message or e-mail is made to a preset number or mail address. Technical alarms. Warning in case of water and gas leaks and power cuts, and preset safety actions. Panic alarm. In case of suspected noises the owner can activate by the push of a button the burglar alarm plus any other functions connected to the system, e.g., lights, sound system etc.
Volumetric sensors available with IR technology or dual IR+MW technology.
Central unit with integrated PSTN or GSM communicator.
Central Unit with Axolute glass plate
Flooding detector with Axolute metal plate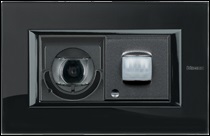 Burglar Alarm sensor & indoor camera with Axolute black glass plate
Burglar Alarm sensor with Axolute white plate
Remote control for the Burglar alarm system
Card Key transporder

Key ring transporder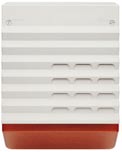 External Siren
Customisation of users: The central unit can be programmed to allow access inside the building based on two criteria that can be customised by the user; by time band, and by type of area. Time band: access in protected areas is only allowed at certain times for example, the maid is given a key that disables the burglar-alarm system each tuesday between 9 00 o'clock and 12 00 o'clock. Area: access inside the house is only permitted in some areas for example, the gardener is given a key that only gives him access to the tool room.
Managing scenarios: It is possible to define up to 16 scenarios to activate, with one single operation, the burglar-alarm system for the areas of the building that need protecting. It is also possible to associate a certain scenario to each individual key.
Activators: These devices can be used to arm/disarm the system by entering a numeric code or using a transponder key (card or key ring).